Just Released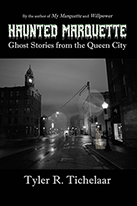 Haunted Marquette: Ghost Stories from the Queen City
Upcoming Events
June 2, 2018. 21st annual UP Publishers and Authors Association (uppaa.org) Conference at Landmark Inn, Marquette, MI. 10 a.m. to 5 p.m.
Summer 2018 - The release of When Teddy Came to Town, Tyler Tichelaar's newest novel about the 1913 Teddy Roosevelt Libel Trial held in Marquette, Michigan
Thurs-Sat, August 23-25, Michigan Paranormal Conference, Sault Sainte Marie, MI. Tyler Tichelaar will join Haunted Marquette contributor and medium Tammy Krassick as vendors at this year's convention. He'll be selling and signing copies of Haunted Marquette and selected other titles. Tammy will be available for paranormal investigation consultations. 
Fri-Sun, December 7-9. Tyler will be signing books at the TV 6 Christmas Craft Show, NMU Superior Dome, Marquette, Michigan. Fri 5-9pm, Sat 10-6, Sun 11-4.